Ched Evans to train with Sheffield United, according to reports
• BBC reports Evans will train with Blades this week
• Evans scored 35 in 42 appearances in 2011-12 season
• United board will decide if Evans returns, says Clough
Guardian sport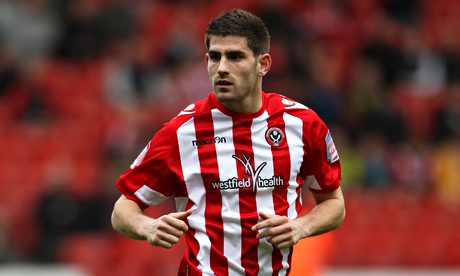 Ched Evans scored 35 goals in 42 appearances for Sheffield United in the 2011-12 season.
The convicted rapist Ched Evans will train with his former club Sheffield United later this week, according to the BBC.
Evans, who was freed from prison last month after serving half of a five-year sentence, has divided opinion as to whether he should return to the club for whom he scored 35 goals in 42 appearances in the 2011-12 season.
As many as 157,000 people signed a petition urging Sheffield United not to re-sign the 25-year-old, who maintains his innocence and released a video statement on his personal website last month stating his intention to return to football.
The Sheffield United manager, Nigel Clough, has maintained that any decision to re-sign the striker will rest with the owners, Prince Abdullah Bin Musa'ad Bin Abdul Aziz of Saudi Arabia, and Kevin McCabe, but allowing Evans to train will be perceived by many as the first step towards his return to the club.